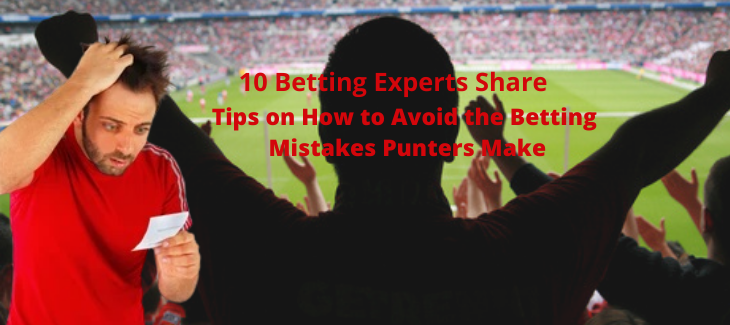 Everyone knows the motivational rush you get when you place a bet. Some people think that winning bets is pure luck. Others do not and those who do not are usually the most successful because they avoid betting mistakes most beginners make.
Why?
Looking for the site that predicts football matches correctly. Check out Tips180.
Because winning a bet is both science and art.
There are tricks, tips, and a whole lot more when you are involved in gambling. So I decided to gather together top betting expert and ask them just one question.
The question is: What is the most common betting mistakes the first-time tipster make?
Either you are a noob or a seasoned punter, you will find lots of information and tips in the wisdom of these experts.
Name: Joseph Buchdahl
Website: www.12xpert.co.uk
Twitter: @12Xpert
Answer:
It's probably chasing losses, changing strategy because of losses and assuming wins are the result of skill and not luck.
Name: Steve Merril
Website: www.prosportsinfo.com
Twitter: @SteveMerril
Answer:
The biggest mistake new sports bettors (and most bettors in general) make is improper money management. While picking winners and shopping for line value are both important, nothing trumps the importance of money management. If you over-expose your bankroll by betting too much per play, you will go broke. Even the best handicappers have a cold streak. You have to stay in the game to win long-term. Using an extreme example, if you bet 100% of your bankroll on every game and went 99-1 (99% winners), you would still go broke. Obviously, this is an extreme example, but it shows why money management will always be the most important factor. Many new sports bettors do not have a solid money management strategy.
Name: Ioannis Kavouras
Website: : www.Roulette30.com
Twitter: @roulette30
Answer:
No matter the game, the most important and most common mistake of bettors is money management. Most people bet more than they should relative to their total bankroll. What's worse is that they bet even more after a loss. None likes to lose and a loss can bring you many steps back. It's only natural to want to recoup your losses fast. And this makes many bettors (not only beginners) bet more, much more than they should.
Name: Ralph Igwilo
Website: www.solutiontipsster.com
Twitter:
The following are the common mistakes I see them making. They include:
Going for long accumulation in the quest to win big odds. Which causes more loss
Chasing loss… i.e., trying to win back lost money by all means. And ends up losing the

follow up

bet in most cases.
Not having a betting plan. Like criterion for qualifying a pick worthy of betting on, How much to bet, How to managing betting capital (bank)
Betting on popular favorites teams always.
Name: Michael
Website: www.FoxyMonkey.com
Twitter: @FoxyMonkey
Answer:
First-time tipsters believe in "get rich quick" bets but they soon learn about the Expected Value, Kelly criterion and other important factors. The only way to get ahead is to play the long-term game and stay the course. "Risk-free bets can only be made using matched betting where the outcome does not really matter to make a profit.".
Name: Henry Michal
Website: www.tips180.com
Twitter: @tips180
The best punter understands that there is no passion when it comes to betting. You must learn not to bet based on emotions but on facts.
Name: Steve Brown
Website: www.goalprofits.com
Twitter: @goalprofits
The most common reason why first-time bettors lose is money management. Successful betting is not about picking winners or having lots of bets, it is all about backing good bets with value prices and for the right stakes. If you can get your bank management right then you will stand a great chance of succeeding in this very difficult game.
Set up your bank and staking strategy, then stick to it with great discipline. Good money management ensures you never lose your bank and that you don't put any extra pressure on yourself. That's the last thing you need!
Name: George
Website: http://lovewinners.co.uk/
Twitter: @Love_Winners_
"We learnt an awful lot in our early days of tipping. The biggest three lessons that come to mind now would be; Firstly – Tipping in good time before an event. It's unrealistic to expect Members & followers to be able to react instantly. Secondly – there's no upside to tipping rogue / standout prices that people can't achieve. It might look good on the site PnL but it only leads to disgruntled Members. Thirdly – Quality over quantity. At one stage we were tipping four horses every single day, often targeting very thin value opportunities. It made us popular with everyday punters looking for an interest, but for punters looking to make serious profits it hampered our ROI%s and made us so much harder to follow.
We're in our 7th year of tipping now and feel we have reached a very happy balance. An easy to follow service with strong, reliable profits that everyone can achieve.'
Name: Joel Turner
Website: https://www.kickoff.co.uk
Twitter: @kickoff
Creating bets with too many selections or that mix different markets can be a bad move. Don't try and over- complicate what you're doing. If you have a good instinct for finding bets then be patient and build your bankroll – if you're taking it seriously success doesn't come overnight."
Name: Pat Pathagerty
Website: http://fishyfive.com/
Twitter:
My betting strategy is based on one fundamental truth – the public always loses. With that in mind, I look for two things:
First, I look for a team that is over-hyped and getting a ton of public support. You can find that information on many websites. If a team is getting 70% of 80% of the bets, I will start researching harder as that is likely a team I want to fade.
Second, should I find a team that is a big public play, I will look for situational reasons as to why I should play against them. Are they coming off an emotional game with a heated rival? Do they have key injuries? Have they played too many games in a short period of time? Is their opponent coming off a huge loss and due for a bounce- back performance?
And when I couple those two things, I have found success picking winners. I hope you do as well.
WOW!
Big thanks to everyone who contributed to this interesting post! Please share if you think it was useful! If you could avoid any betting mistakes, what would it be?