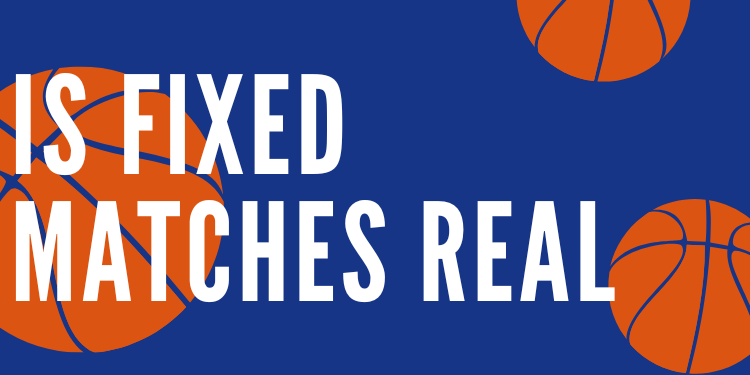 Are fixed matches real?
This is one of the hottest questions that drive sports lovers anxious, most especially the sports bettors in the sports industry.
Maybe it is a debate or not, but people often ask questions about why people want to be involved in fixed matches, and why can't they follow good football prediction websites like tips180, soccervista, etc
Well, not every gambler is gifted the luck to gamble but yet wants to make a nice profit, we all deserve those GREENS when we place a bet on a sporting event but at times things go unfortunate and we finally mourn our selections, this is why bettors are curious about the conspiracy behind match-fixing, are they real?
And probably want to receive tips to accomplish those million-dollar dreams we've always wished for.
I have seen cases where people lit up arguments about fixed matches and if it's actually real or just a scam scheme that rips people of their money, which sounds somehow right.
Many have claimed that this scheme is real and it does work but they are usually hard to find, even though they refuse to show some concrete evidence, while on the other end, many say it was never real because they have done their research about it and it was stated that any club or sport.
In this article, we will lift the debate off the ground and address it once and for all.
Fixed matches are actually real and often associated with gambling, it usually occurs between betting agencies and gamblers, offering an opportunity for a large sum of money on a sports event with the goal of making high returns, this is usually done to make some personal/financial gain.
Match fixing cannot be done successfully without several powerful contacts which include bet investors/gamblers, players, team officials, and maybe the referees at times. They all join together to manipulate the game so they can achieve the outcome they need.
Fixing games can be perilous because there are critical measures that are put in place against such acts and anybody found in the act will be dealt with, the implication includes getting penalized and criminally prosecuted by the sports federation for such dishonesty.
Before we dive into this deeply, let us first understand what fixed match means…
What Is a Fixed Match?
In a simple sentence, (in sports), a fixed match is the practice of dishonesty and violating the rules and regulations of a law that guides a certain competitive event, it is an illegal practice that includes playing or officiating a match with the intention of achieving a predetermined result.
The following behaviors constitute match-fixing and competition manipulation:
Eliminating or greatly reducing the element of chance involved in the outcome of a match, an occurrence within a match, a point spread, or any other aspect of a match by choosing or acting on a purpose
Athletes' willful underperformance
Leaving a game early for phony reasons
Attempting to influence or actually influencing a sports referee to determine a game's outcome
A sports official purposefully implementing the rules of a game incorrectly
Interference with the game, the tools, or the playing environment
Misuse of insider knowledge to support a wager or the placing of a wager on a game.
4 Football Teams/Players Found Guilty Of Match Fixing
There are a lot more scandals in sports that are not mentioned here, scandals occur in many sports events including Football, Basketball, Badminton, American Football, Baseball, Boxing , Cricket, Motorsports and many more. Here are a few most famous scandals in sports history.
Italian Football
Italian football is one of the most famous leagues in the world, Juventus is known to be one of the best football clubs in Italy as well. In 2006 Juventus was involved in a match-fixing scandal which led them demoted to a lesser extent —Seria B. The scandal was uncovered in the 5th month of the year 2006 which was May when a number of telephone interceptions showed.
We mentioned punishable measures earlier right? Well, this was what the Federation International Football Association (FIFA) did, the former Juventus director Luciano Moggi was sentenced to five years + 4 months imprisonment whilst Fiorentina owners Andrea Della Valle and Diego Della Valle received 15-month prison sentences and a €25,000 fine each
Lazio president Claudio Lotito also suffered a 15-month sentence with €25,000 fine whilst AC Milan executive Leonardo Meani was given a one-year sentence.
Up to 16 people were found guilty in all, and it has taken Italian football a long time to recover.
The South Korean footballer Choi-Sung Kuk moved to Suwon Samsung Bluewings for the 2011 football season signing a 3-years contract with his new football club. While playing for Gwangju Sangmu in the south Korean K-League, Choi-Sung was found guilty of a match-fixing scandal and was handed a lifetime ban from playing by FIFA.
In the early 90s, around 1992-93, Marseille was found guilty of match-fixing under the influence of Benard Tapie, a french businessman, television entertainer, and ex-president of the Olympique Marseille soccer club. Marseille won f0ur (4) french football league titles between 1989 and 1992 as well as a UEFA Champions League trophy to boot under his guidance but after it surfaced that Tapie has been involved in match-fixing, the great Massille glory began to crumble right before their eye, they were stripped of their league title, demoted to a lower league "Ligue 2" and banned from entering the Champions League and banned from entering the Intercontinental Cup. Marseille suffers a huge financial problem during this era, Raymond Goethals was their manager at the time this event occurs
Bernado Tapie who also has an interest in running a political office was sentenced to Two-years in prison. He later went to prison for six months after being convicted in 1995 for corruption, tax fraud, and misuse of corporate assets. He was also banned from running for public office.
Remember football manager Raymond Goethals who was managing Marseille under the guidance of Bernado Tapie? In 1982, Belgian Side Standard Liege was fined £75,000 following the incident that concerned their manager Raymond Goethals who suggested to the players that they offer their match bonuses to their opposition on the final day of the season in order to secure a victory and awaiting league title.
The Manager "Raymond Goethals" was banned from managing in Belgium for life along with 13 of the Standard Liege players.
Liege was allowed to keep their Belgian title. Goethals found a job at Marseille some years later, as described in the previous slide.
Do People Really Get Scammed?
The answer is yes, due to the nature of this business, it is very hard to find a true source as many scammers have already taken advantage of this opportunity to jump into the system and scam, gullible people, of their money, the whole internet is occupied with scammers claiming to be real but then they still ended up being fake. It is almost impossible to see a true fixed matches source as these are clandestine services. Although, some prediction sites are very good in their matches analysis and tips. Here is a list of recommended prediction sites to use.
What You Should Know (In Football Soccer)
FIFPRO is committed to finding and eliminating any instance of match-fixing from the game and welcomes player participation in this effort. Any manipulation of this nature jeopardizes football's commercial values as well as the ethics and integrity of the game.
There Are Many Forms of Match-Fixing
Match fixing depends not only on the outcome of the match but also on specific instances that occur during play, such as penalties, corners, yellow cards, and fouls. Anyone involved in a game could be at risk, from the players to the officials, and those who make less money are especially at risk because it may seem like an attractive method to get more money.
A General Approach Is Not An Appropriate Solution
It is not acceptable to wrongly suspect players because this will have an adverse effect on their working environment. Players can report suspicious activity related to this subject secretly thanks to FIFPRO's Red Button App program.
Players' Safety Is A Critical Element In Tackling This Issue
Players must be instructed on how to spot potential match-fixing incidents and safely report them. Although a framework for dealing with this issue has been established, effective communication is still needed.
Conclusion
Sport does have the unique ability to unite individuals of many nationalities, races, skin tones, religions, and even languages in pursuit of prizes. Match-fixing is undoubtedly one of the greatest dangers that athletes face because it compromises the fairness and credibility of sporting events and may even bring about the collapse of an otherwise efficient system. Players who put in so much effort to show off their skills and dedication should be treated fairly. Match-fixing is a widespread occurrence where athletes are tempted by money and under pressure to sway sporting goals and results, which is kind of unfair.