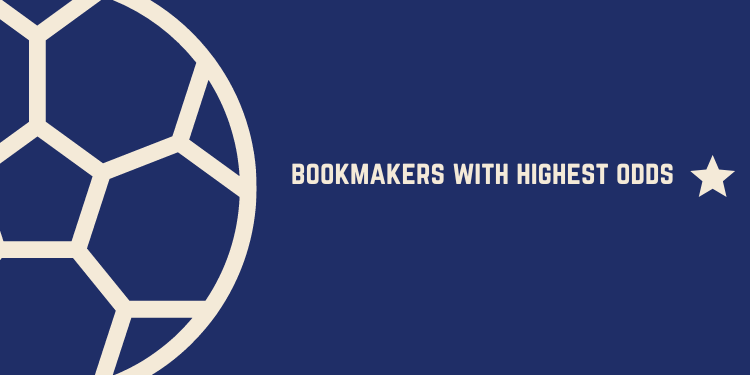 Have you ever thought about who the bookmakers with the highest odds are? We've answered that question for you.
If you don't ask yourself this question at least once as an acclaimed avid bettor, then you're not just missing out on some amazing deals, but we also don't think you're playing to win.
You see, the whole point of wagering money on a game you don't know how it will turn out is because you want to win and you want to win big.
Betting, more than it is about passion, is more about winning. And if your current bookmaker isn't giving you odds that blow your mind then you've really been wasting your hard-earned money on sites with lesser odds.
We have made a list of 12 bookmakers with the highest odds in this article.
Article Content:
What are betting odds?
Why are betting odds important?
How do betting odds work?
12 bookmakers with the highest odds
Which bookmakers have the highest odds?
What Are Betting Odds?
In betting, odds are numbers that show the probability of an event occuring. A sports event with lower odds is more likely to occur than one with higher odds.
Odds are represented in numerous formats, but one of the most common one used especially amongst Nigerian bookmakers is decimal odds.
Betting odds are often expressed in numbers and show the chances or probability of an event. If a team would win in a match, the odds you receive from that team will be low. But if the odds you get are bigger than an event won't likely happen.
Odds are essential in online sports betting as they decide the amount of money you win from your bets. The higher the odds you get, the more your winnings. This is why it's important for you to choose a bookmaker that gives you high odds.
Why Are Betting Odds Important?
Betting odds are key determinants in online sports betting. They are important for a whole lot of reasons and we've mentioned some of them below:
Odds tell us the likelihood of an event happening.
They determine the value of your potential winnings.
Understanding betting odds helps you come up with better betting strategies.
Knowing betting odds and how they work help you maximize your earnings.
How Do Betting Odds Work?
Betting odds are very easy to understand.
To show you how betting odds work, let's use this example of an EPL match between Manchester United and Aston Villa.
Due to Manchester United being the better team and are expected by bettors to win the match, they'll receive smaller odds. Meanwhile, Aston Villa, who are the underdogs and not expected to win, will get the higher odds.
Then there is…
Fractional and Decimal Odds
Betting odds are represented in various formats, but the most common ones are fractional and decimal odds. Most Nigerian bettors use decimal odds.
Decimal betting odds are widely used because they are easy to understand and apply. With these odds you can compare the odds between different sporting events without doing any complex math.
You can easily use decimal odds to compare betting odds between various betting sites. But it isn't so with fractional odds, which are usually confusing for beginners.
Few sites allow you to switch between different odds formats. Therefore, if you feel comfortable using fractional odds, then you can make that choice on your bookmaker's website.
12 Bookmakers With The Highest Odds
Tips180
1XBet
Bet9Ja
Melbet
BetWay
N1Bet
WazoBet
Bet365
BetWinner
22Bet
BetFarm
Sporty Bet
Which Bookmakers Have The Highest Odds?
Betting odds are similar across betting sites, however there are minor discrepancies which are noticeable from bookmaker to bookmaker.
These differences aren't noticeable at first glance, but they become greatly significant in the long run, particularly when you wager huge sums or compile accumulator bets.
This is why it is important that you go to bookmakers that have the best and highest odds in the market, so that you can maximize your payouts.
We have sampled some bookmakers with highest odds below:
1. Tips180 – Bookmaker With The Highest And Most Versatile Odds
Tips180 provides accurate football predictions and extensive analysis for over 50 football leagues across the globe, including the English Premier League and Champions League.
We offer different betting markets/ odds like – accumulators, double chance, BTTS, under 2.5, over 2.5, potential risk (high odds), single bet, etc. Which gives bettors an easy betting experience and the flexibility they need.
Our analysis reveals the chances of specific outcomes occurring like the probability of both teams actual score outcome, although most bettors believe in fixed matches.
At Tips180, there is a team of experts who work tirelessly to ensure that you get the highest odds available in any bookmaker.
Want more? Check out our Tips Store.
2. 1XBet – Bookmaker With The Highest Football Betting Odds
1XBet is one of the best football bookmakers in Nigeria and it has a diverse football section which naturally appeals to Nigerian punters.
This bookmaker has an incredibly large football section and extremely competitive odds across markets. Not only do you get amazing betting markets here, you also get sizzling betting odds on 1XBet.
1XBet, although originating from Europe, accepts naira, offers convenient payment options, and accepts account funding through Nigerian ATM cards.
This bookmaker also offers EPL betting for bettors who prefer it. Additionally, they have a welcome bonus that gives 200% on bettors' first deposits.
3. Bet9Ja – World-class Bookmaker With High Odds
Bet9ja is one of the oldest and most popular bookmakers in Nigeria, and although owned by Nigerians, it has become one of the best betting sites globally.
The betting odds available on Bet9ja compares well to some of the other good bookmakers in the industry. Similarly, the high odds they offer cuts across this bookmaker's enormous betting markets.
Bet9ja is the standard when it comes to Nigerian betting sites in various and its betting odds department is one of them.
Compared to betting sites like Betway, Bet9ja has a generous average decimal difference of 0.12 and 0.07 for its highest and lowest decimal points. This bookmaker offers a 100% bonus of up to ₦100,000 to new members on their first deposit.
4. Melbet – Superior Betting Odds
Melbet is one sure bookmaker that gives superior betting odds and excellent bonuses to punters, to give them value for their money.
The average decimal of this bookmaker is 0.33 in its highest odd difference when compared to Bet365 and 0.11 in its lowest.
Melbet gives a 200% first-time deposit bonus which is more profitable than what is being given by some of the betting sites on this list. There is no set amount for the welcome bonus and you can stake as much as you want.
5. BetWay – Super High Odds
BetWay is one of the best sites in Nigeria that bettors can use to maximize their winnings.
This bookmaker consistently offers high odds across every sport, ensuring that punters make the most from their stakes. They also give away massive bonuses on accumulators which is why they are popular amongst Nigerian bettors.
Betway is one of the best betting businesses, always putting its customers first. Upon registration, new members get a 100% bonus which is up to ₦100,000 for their first deposit.
Betway has rich bonuses and promotions, rewarding bettors with promos like – 4 to Score, Betway Money Back Boost, Cut One, etc.
6. N1Bet – Bookmaker With 300% High Bonus
N1Bet is just one-year old, but they've earned the right to be counted as one of best international bookmakers in Nigeria. Its betting markets are appealing to bettors because it has diverse options.
New bettors are welcomed into N1 with a 300% bonus of up to NGN 1,000,000 on their first few deposits.
Interestingly, the betting odds offered by this bookmaker are also as attractive and high as what you'll get with other betting brands.
7. WazoBet – Super Competitive Odds
Wazobet is new to the Nigerian betting scene, but this bookmaker has already become one of the best betting sites in the country.
Wazo excites bettors with the variety of games on its platform which includes regular offline sports and video/virtual games.
This bookmaker has on its platform everything Nigerian bettors love, great bonuses, fast withdrawals, impressive sportsbook and super high odds. It meets punters at the point of their betting needs.


Wazobet offers a 110% bonus of up to ₦50,000 on first deposits; it also offers accumulator bonus and free spins on first deposits.
The odds on this bookmaker are super competitive to ensure that you earn maximum rewards from your bets.
8. Bet365 – Bookmaker With Great Betting Odds
Bet365 is a fantastic bookmaker with some of the best odds available, although it doesn't accept naira so transactions are made in a foreign currency.
However, bettors can deposit any amount of money they want into their Bet365 account in any chosen currency, the dollar equivalent will be deducted from their bank accounts.
They offer a welcome bonus for new bettors worth 100% of first deposits as free bet and $30 in Bet Credits which is approximately #11,433 with the current market.
The odds on Bet365 when compared to Betfarm on average has a difference of 0.11 and 0.01 on its highest and lowest decimal points. This difference when added to services offered on the platform, gives you a great range of options and value.
9. BetWinner – Excellent Live Betting Odds
Betwinner is where you go if you want the highest live betting odds in Nigeria. They're one of the best live betting bookmakers in the country. Their in-play betting section is vibrant, with many sports and betting options.
All of the betting options of BetWay come with very high odds. They also have a high welcome bonus, of up to N100,000 for new bettors.
If you want to get a nice welcome bonus and still benefit from great live betting odds, BetWinner is your bookmaker.
10. 22Bet – Bookmaker With Best Outright Odds
22Bet is an international bookmaker that accepts Nigerian bettors. They offer an impressive football betting selection, great welcome bonus and accept Nigerian currency.
If you want high football odds, then this bookmaker is for you. 22 has some of the highest/competitive odds you can get in Nigeria, offered across all sports and events like EPL, Nigeria Professional Football League, basketball, etc.
Another important thing to note is that 22Bet is one of the few Nigerian sites that consistently offer the highest outright odds.
Outright odds involve betting on the outcome of an entire tournament rather than on individual bets. Examples would be betting on the next EPL champions, Wimbledon champion, NBA winner etc.
Bettors often put high stakes on outright bets, so to get the best value for your money, you need to bet on a site that has great outright odds like 22Bet.
11. BetFarm – More Than Average Odds
BetFarm has carved a space in this niche by offering bettors unbelievable bonus terms and above average odds.
When you register on the betting app, you receive a 100% bonus term for your first 3 deposits, a term offered by BetFarm only.
The odds offered by BetFarm are incredible. When compared with Bet9ja, BetFarm had a difference of 0.16 odd and 0.00 on its highest and lowest odds decimal.
12. SportyBet – All-round Great Odds
SportyBet was established in 2013, and has gathered for itself loyal bettors in Nigeria, Kenya and Ghana.
This bookmaker gives customers great odds and has a lite APP that enhances fast live betting experience, deposits, withdrawals, and awesome bonuses. Here, new bettors enjoy up to 1,000% multiple bonus.
Nigerians and punters of other nationalities can make predictions on SportBet for various sports like Football, American Football, Beach Volleyball, Elce Hockey, etc.
These are the bookmakers with highest odds. Now that you know them, sign up to start maximizing your winnings.