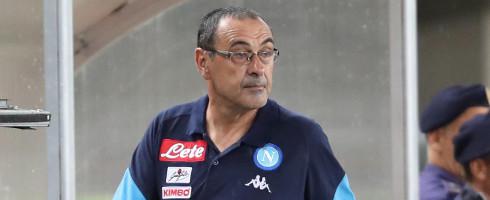 Maurizio Sarri slammed the pitch at the Dacia Arena, but was pleased Napoli got the win over Udinese by "proving we can win ugly."
Jorginho scored the only goal, on the rebound from a parried penalty, for a 1-0 result that recaptures top spot from Inter.
"We used to struggle more in previous years during games like this. It was a good training session for defending, holding out and controlling the ball. We showed less quality than usual, but that was inevitable," the Coach told Mediaset Premium.
"It wasn't easy on this pitch, was in horrible condition and barely qualified to play top flight football on. We needed three touches just to get the ball under control.
"It looks as if the improvement we can make this season is to win 'ugly' games and that allows us to get the results we need even when not playing particularly well."
It was important to get the win and stay top ahead of next Friday's showdown with Juventus.
"I don't think the table means a great deal right now. You can't say a single game is decisive for the table when there are seven months to go.
"When there are five teams crammed together in so few points, one result can make you go from first to fourth. I see this as a prestigious match that our fans care about in a particular way, so we must give it our all, but I don't see it as that important for the table."
Sarri rarely rotates his squad, but insists it's not a physical strain on his players.
"Since August, we've been playing a game every three days, so a break will be necessary before we can work on the tactics. Having said that, today the defensive movement was good and if we become a solid side, we've already got the quality in attack to get the job done.
"The risk with playing so often is more of a mental fatigue than physical, especially in the Champions League. In the days after that, you will have a dip and it's hard to get fired up again straight away for the next match."