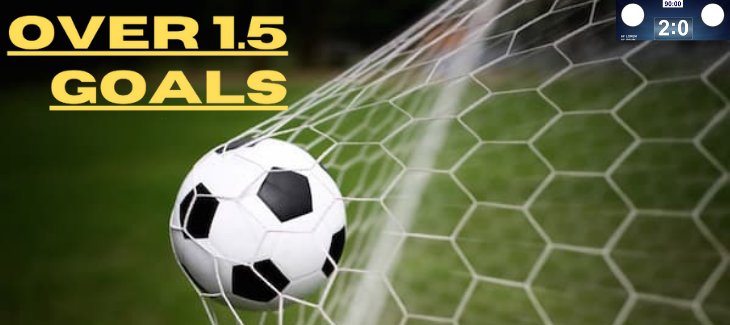 What does over 1.5 mean in football betting?
The term over 1.5 is a popular betting market used by many bookmakers for pre-match and live betting, but what exactly does it mean? And more importantly how does it work?
If you are a bettor who struggles with understanding this market, this article on What is Over 1.5 in Football Betting? Samples the meaning of this term, while still sharing some insights about it as well.
Article Guide:
What is Over 1.5?
How does Over 1.5 work in football betting?
Why should you bet on an Over 1.5 market?
How to bet / trade on Over 1.5 goals market
What Is Over 1.5?
Over 1.5 goals is a popular betting market which covers the total number of goals scored in a match for two teams, it is a two-way market that acknowledges a win or loss of your bet.
This market is part of a vast selection of other over/under football betting markets which include over/under 0.5, 2.5, 3.5, 4.5, etc., that bear the .5 decimal to indicate that there is no possibility for a draw or refund.
How does Over 1.5 Work In Football Betting?
Over 1.5 goals in football betting means that two or more goals need to be scored by the players you are backing for the bet to be won , and 0 or 1 goal means that you have lost the bet.
So, if you do place an over 1.5 goals bet, what you are hoping for to win the match would be for it to end in either a score of 1-1, 2-1, 2-2, 3-2 2-0, 0-2, 3-1, 4-2, 6-0, 7-1, etc. Any scoreline ending with 2 goals or more wins.
On the other hand, the bet will lose if a match finishes 0-0 or 1-0 to either team. However if you did back an under. 1.5 goals, you would wish for the match to end in no goals at all or one goal, so you will win if the match finishes in 0-0, 0-1 or 1-0.
Basically, the Over 1.5 is a market where you can bet on whether the total number of goals in a football match will either be more than 1.5 goals ( that is 2 goals or over) or less than 1.5 goals (that is 0 or 1 goals).
Another thing to note is that the over 1.5 goals market applies only to a 90-minute match plus additional time, and does not include extra time given for the match.
Why Should You Bet On An Over 1.5 Market?
Some bettors when faced with the decision to bet on an Over 1.5 market, would wonder why it has .5, especially since it indicates half a goal added in the market, and no could possibly score half a goal in football.
However, what makes that .5 valid is because having it that way ensures that you only have two outcomes to your bet, win or lose and it cannot draw. This is because if you had the wager at over or under 1 goals, and the match happens to end in a 1-0 or 0-1 score then the bet would be a draw or voided. An over 1.5 goals, means that there can only ever be win or lose, thereby making the bet simple and straightforward.
Additionally, over and under markets are some of the most popular to bet on in football, second only to the over or under 2.5 goals which are the most popular markets.
And since the odds in football betting are always swinging somewhere between 1.1 and 1.4, depending on the bettor's relative expectation of goals scored in a particular match, you placing an Over 1.5 goals bet not only allows for a simpler more straightforward way of betting, but you also do not have to worry too much about which team will win.
All you need to do is make a prediction of whether the teams will score a minimum of two goals or not.
If the match happens to be one where you were hoping for at least two goals, then this market will make for a good way for you to earn some money.
How To Bet / Trade On Over 1.5 Goals Market ?
If you want to place a bet on the over 1.5 goals market, a recommended first way for you to do that would be to visit reliable betting sites like Tips180, which clearly lists this market as "Over/Under 1.5" on our Tip Store, to find more accurate insights.
Two things to keep in mind is that you can bet on Over 1.5 goals market for any of the team you believe is going to score 2 or more goals themselves and that this market is often too short to bet on in pre-match markets, but they are perfect for in-play bets or half-time betting as well, so do well to use them during these times
Now that we have covered the basics, below we have delved into some practical ways you can bet or trade on an Over 1.5 goals market.
Betting On An Over 1.5 Goals Market
Thinking about betting on the over 1.5 goals market and not sure which strategy to use? We divulged some secrets.
The first and most important thing to look for is value, that is where the odds seem higher than they usually are, thereby giving you an edge over the bookmaker or over the betting market.
These are some other strategies you could apply to provide you with that edge you need when betting on the over 1.5 goals market:
1. Find the Bookmaker's Mistake And Exploit It
Bookmakers often increase the price of matches depending on algorithms, but then they do not change their in-play models even when players score goals that could change the way games are played. 
An early goal for example can make a match more open than expected. With this in motion, you could identify and predict several over 1.5 goal opportunities based on the Halftime score and other instances where there is a high chance of another goal being scored in the match.
2. Look For Injured Strikers
Injured strikers could affect the victory you are hoping to secure with an Over 1.5 goals market bet.
If one or both of the teams playing a match have their main strikers out due to injury, then it is possible they will have difficulties scoring goals. In this case it is better to back an under 1.5 goals market.
3. Missing Defenders
Missing defenders are an example of match misfortunes that could actually make your predictions come through.
If any of the sides have their star defenders missing, then they would likely struggle to prevent goals giving the other team an upper hand in the match, which means backing the Over 1.5 goals given the situation was a smart decision.
4. Late Tournaments
During international football tournaments like the Euros and World Cups, goals are usually hard to come by, especially in the last stages. At this time, teams get into a state of mind where they do not want to lose or give away anything easily, so they stop performing when the tournament gets to the knock-out stages.  
When this happens it would be better if you do not back the Over 1.5 goals and instead go for something lower like the under 1.5 goals.
5. Mismatches
Mismatches on this list are the final threat to your Over 1.5 goals betting. They often happen when people assume that because there is a team at the top of the table matched against one towards the bottom, then it will be an easy defeat.
However, a good advice for you would be to pay attention to the sides that have a good defense against the opponent's goals, although they find it difficult to score goals themselves, thus placing them at the bottom of the table. You can't hope for a 2 goals or more score from those kinds of matches, because no one stands a good chance at scoring higher than one, so it would be better and more valuable for you to back them in an unders market.
Trading On An Over 1.5 Goals Market
There is a chance for you to trade on the over 1.5 goals market, using numerous exchange sites that offer good deals.
And while there are lots of strategies for trading on this goals market, below we have shared 4 easy ones you can use to trade on an Over 1.5 goals market.
1. Use In-Play Stats To Trade
You can use a tool like an In-Play Scanner which monitors ongoing matches and awards them ratings to show the possibility of a goal.
What this tool would do is that once its ranking hits 80 for example, it suggests a strong possibility of a goal being scored very soon.
The advantage of waiting for a match to be in-play before you place your bets is that the odds of over 1.5 goals could substantially rise as compared to that of pre-match odds, thereby providing a higher value.
2. Trading During The First 10 Minutes
For this strategy if no goal is scored in the first 10 minutes of a game, then the odds will considerably move towards the possibility of an under 1.5 goals rather than over 1.5 goals, even if the stats indicate that the chances of a goal in the first 10 minutes are low i.e less than 1 in 5). By smartly backing an unders game instead of an overs, before the game starts you can either lay after 10 minutes or cash out to make profit, trade out for a loss when there is a goo.
3. Second Half Over 1.5 Goals
The Second Half over 1.5 goals strategy is a good one to use for trading on this market, as teams are more likely to score in the second half, as has been statistically proven by major European football leagues; more goals are scored in the second half on average than in the first half of matches.
On that note, the Second Half over 1.5 goals strategy entails backing for over 1.5 goals to be scored in the second half of a football match, a score of 0-1 or 1-0 can set this in motion.
4. Drip Back over 1.5 Goals
The Drip Back over 1.5 Goals trading strategy entails placing bets on the over 1.5 goals market at different stages of the ongoing match. If a team scores a goal after you place any of your bets then you can either back or lay the match for a profit.
Most sports bettors chose different entry points and staking for the Drip Back over 1.5 Goals, while some prefer to back 50% of their staked amount after a particular number of minutes and place the remaining 50% sometime in the second half. Other bettors place their bets based on odds, 50% when the odds on over 1.5 goals reach 2.0 and 50% when the odds on over 1.5 goals reach 4.0.
The over 1.5 goals market is one of the most popular markets to bet on. But, while it seems like an obvious match of two goals scored or more, sometimes this market is not straightforward, which is why you should watch for details like team news and games of particularly strong defenses or attacks.
Likewise, if you are looking for a good betting site to make real profit from betting on football, then we recommend checking out our website.